ARTISTS FOR NEEDLY CHILDREN !!!!
STERNSTUNDEN AUKTION AUF RADIO BAYERN 3 BRINGT 4800,- € FÜR HILFSBEDÜRFTIGE KINDER IN DER WELT
;))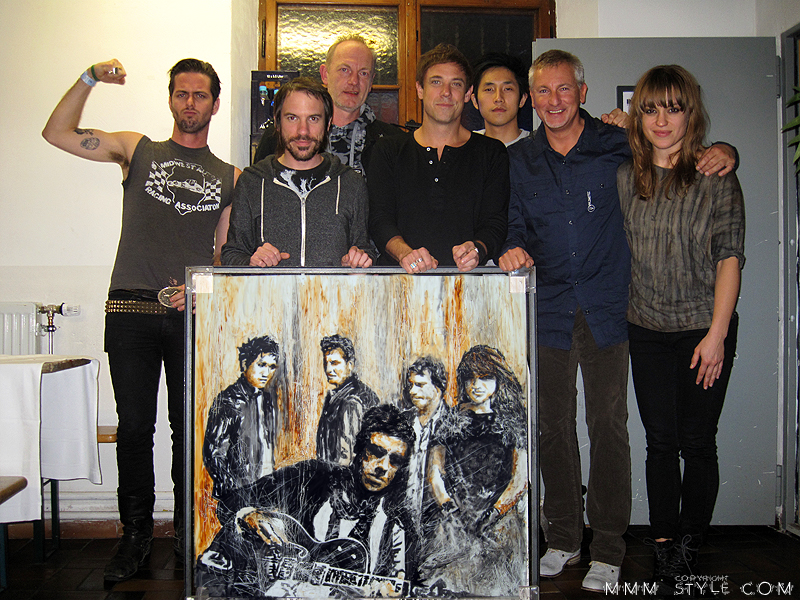 Great day with a great Band from Los Angeles 😉 Präsentation für STERNSTUNDEN - "
THE AIRBORNE TOXIC EVENT
" - Foto von links nach rechts: Noah Harmon (Bass), Daren Taylor (Drums), Mike Mainbird (Artist), Mikel Jollett (Gesang), Steven Chen (Gitarre), Matthias Matuschik (Sternstunden-Bayern3) und Anna Bulbrook (Violine/Keyboard)
http://www.youtube.com/watch?v=2S8m-IZIOLQ
KÜNSTLER FÜR STERNSTUNDEN
Der im Rosenheimer Landkreis lebende Künstler Mike Mainbird präsentierte mit der weltweit ausgezeichneten Band "THE AIRBORNE TOXIC EVENT" (Sometime Around Midnight ) unter Leitung des beliebten Radiomoderators Matthias Matuschik (Matuschke) sein Gemälde beim Konzert in München. Das für die STERNSTUNDEN e.V. entstandene Werk wurde von den Bandmitgliedern signiert und danach auf Radio Bayern 3 für die Charity-Aktion versteigert.
http://www.sternstunden.de
Sternstunden hilft bedürftigen Kindern
Seit Gründung im Jahr 1993 setzt sich Sternstunden, die Benefizaktion des Bayerischen Rundfunks, mit Unterstützung von BayernLB, bayerischen Sparkassen, LBS Bayerische Landesbausparkasse und Versicherungskammer Bayern für notleidende Kinder und Jugendliche ein.